I added a new picture of my hair to yesterday's post. I took out the hair-clip last night and was admiring the streaks, and thought my stylist would not be pleased if she knew the only picture I'd posted of it was the one that made me feel uncertain about them. But I think the new photo is TOO flattering: we have good light in the bathroom. ANYWAY. LIKE THIS MATTERS.
I want to talk about making kids save for college. Rob and William are still working their summer jobs, and it's going well, and they've gotten their first paychecks, and I'm not sure what ruling to hand down from the mountain. We've talked with them about college expenses, and what they can expect us to pay and what they can expect to need to cover themselves, and we've also talked about other uses for money such as charitable causes, fun stuff, and investments. Right now our kitchen white board is covered with possibilities, and Rob and William are less interested than I am in going over all the not-very-different options again and again.
The system my parents used for me was this: When I was earning small beans (like babysitting irregularly at $2-3/hour), I had to put 10% to charity and 50% to college; 40% was mine to keep. When I was working lots more hours (like a summer job), it was 10% to charity, 70% to college, 20% keep. This sounds a little pitiful, but 20% of a full-time job is a lot of money for a teenager with very few expenses: I remember going up and down store aisles TRYING to find something I wanted to buy. Another detail of this system: I remember asking what would happen to the money if I DIDN'T go to college, and my parents said they would give it back to me for all the new-adult start-up costs such as security deposits and furniture. They would have had me do this system either way; we were just calling it "college savings" because I WAS planning to go to college. I remember that made it feel more like My Money: they were making me save for my own future, they weren't taking the money away from me.
The system Paul's parents used for him was this: no system. He kept all the money he earned. And of course he didn't save any of it for college: I don't think I would have, either, if I hadn't been made to. Once he was IN college, he used a lot of his earnings to pay for college, because by then the expenses seemed real to him, but he still ended up with big college loans that were a beast for us to pay off. When we didn't know how to come up with the money for a new battery for the car, it made me clench my teeth to imagine him as a teenager blowing $200/week.
We are trying to decide what kind of system to use with Rob and William. I'm not doing 10% charity anymore (my parents are Christian, so 10% was a biblical instruction we were following), and it seems like a lot. But we'd like to get them in the habit of giving away some of their money, and I find it fun to talk with kids about what causes they might want to support. So, maybe 5%? If they earn $200/week after taxes, that's $10/week to charity.
I think 20% is the right amount for them to keep. From a $200/week paycheck, it's $40/week. It's kind of high, but on the other hand it's only for a few months of the year. I remember as a teenager feeling like it was a really nice amount to get to keep, and if it were lower I'm not sure I would have been motivated to work more hours when they were available. Paul suggested letting them keep a flat-rate amount, but I think that would have been the wrong thing for me as a teenager: I liked calculating how much more money I'd get to keep if I worked more hours, and I would have said no to extra shifts if I'd gotten the same amount of money no matter what.
Paul is very keen right now on INVESTING: he recently read a bunch of books that say the best way to retire with millions is to invest even small amounts as early as possible. I'm down with that, but also it seems to me that every dollar the kids invest in their retirement now is a dollar we have to take away from OUR retirement to cover the money they're not putting toward college, which seems silly; doesn't it make more sense for us to save for retirement while they save for college? On the other hand, it would be a good habit for them to get into, and by the time they're out of college we won't have any say over how they spend their money. If we use our influence while we've got it, that might pay off for them in the long run. Let's say we have them invest 5%: that's only $100 over the whole summer, but they could see how that amount grows. But it bothers me to see the college percentage going down and down as we keep thinking of more ideas. Paul originally put investment as 15% (the minimum, according to a book he's reading), and I vetoed that.
Here's how things are looking on our white board (ignore tacos, meows, songs):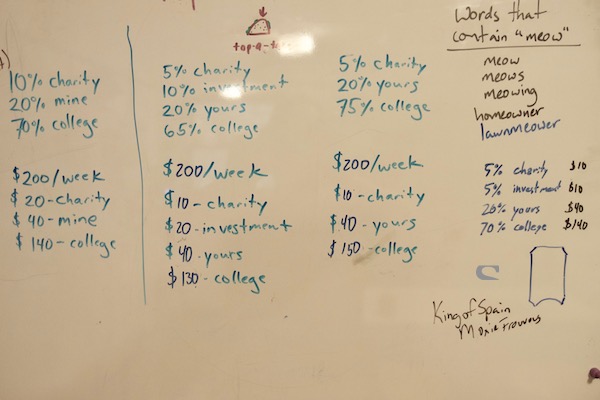 The far left is me showing them how my parents' system worked out: the percentages, and then how those percentages look when applied to a $200 paycheck. Then we have three more sample possibilities, with the college contribution ranging from 65-75%. I think we're leaning toward the one on the far right (squeezed in under words that contain "meow"): basically the same system as the one I had to follow, but with the tithe split between charity and investment. But the thought of all the fuss of that makes me lean toward the middle one: 5% charity, 20% keep, 75% college.
If you have kids who are of money-earning age, what are you doing about this? Or what do you have in mind for when they ARE that age? And what was the situation when you were the money-earning teenager?