I had my hair highlighted/streaked, and it came out more dramatic than I'd anticipated: my hair is light brown, and I got the bleachy highlights instead of the recommended caramel/honey type; on one hand I knew exactly what I was doing and on the other hand there was some resulting self-consciousness and uncertainty, especially when I pulled it back: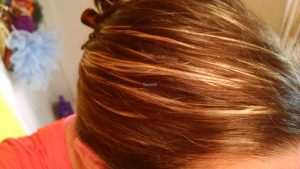 Here's a more flattering picture of it down: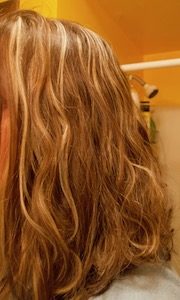 I thought Paul might tease. We have a long-running difference of opinion on the color of my hair, and this could be seen as a fresh start to that discussion. Long, long ago when we met (I was YOUNGER THAN ROB IS NOW), I called my hair dark blonde, and it WAS IN FACT dark blonde. It has continued to darken over the years, and I have gone through several stages of acceptance to call it light brown. Paul, though, has called it "brown" all along. And it is NOT brown! HIS hair is the kind of dark brown that children use a black crayon to represent, and he calls THAT brown TOO. There is a huge difference between BROWN-brown hair and the used-to-be-blonde shade of light-to-medium brown so many of us ended up with.
THIS is brown:
THIS is brown:
THIS is brown:
And I didn't even choose the DARK browns for those pictures, I chose the MEDIUM browns! Paul's hair is MUCH darker than those, and he just calls it "brown"! Mine is lighter than those, and he just calls it "brown"! Brown is a very pretty color, but it is not the color of my hair! I'm not being unreasonable here!
Anyway. When he came home he didn't say anything about the highlights/streaks. We'd been talking for maybe ten minutes when I said, "It's a good sign that you didn't come in and say 'Yo, stripes!' about my hair; I was a little worried that…" and he looked at my hair and said "Whoa!" So apparently his eyes had just not yet rested upon it.
In other cosmetic news, Elizabeth did my nails. One hand is assorted daisies; the other is galaxy nails: