Okay, okay, things are going a little better now. My mom and I went out shopping yesterday, and seeing all the pretty holiday stuff in the stores put me much more firmly into the right state of mind. I bought some nice wrapping paper I absolutely don't need at all, and four bags of a jalapeno kettle corn I've been keeping an eye out for (so far I've found it at HomeGoods and at Marshalls), and we had lunch at Wendy's, and perhaps we are all going to make it through this season of joy after all.
I did NOT take a picture of the kids as planned, because I forgot Rob and William had an after-school thing, and the Rob and I got snippy in the car on the way home, and so anyway let's just postpone that into the full-on panic zone. It helped to think about what would I tell someone else in the same situation: I'd say, "Well, if people don't get a photo in the cards this year, or if you don't even send out cards at all, or if you send out, say, the half-dozen most important ones and no others, that's really not a huge deal. You'd just do it next year and probably most people wouldn't even notice or care. Your mechanic is not waiting by the mailbox for the Thistle Christmas card."
I DID, however, put all the candy canes and chocolate ornaments on the tree (I did some while waiting for it to be time to pick up my mom to go shopping, and some while waiting for my coffee to reheat in the microwave) and, when combined with the few ornaments the kids have made at school, and the few ornaments I'd bought since last year so hadn't packed away in the Christmas box, to my surprise the tree looks pretty much decorated. It's sparse, and I still do want to bring up the box of ornaments and do some more, but we went from Sad Undecorated Tree to Pretty Much Decorated Tree in about five minutes.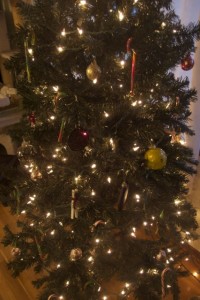 The chocolate ornaments, by the way, are not exactly a CHEAP treat (I found a bag of them at HomeGoods for $10), but I plan to do them EVERY YEAR FOREVER. I bought them last year for the first time, on a shopping trip in which I was in exactly the right mood to spring for them, and I felt like they gave a lot of holiday bang for the buck. Every day after school I let the kids choose one thing (candy cane or chocolate ornament) from the tree, and it's an easy way to do something festive. I wish I'd saved the package so I could show you what to look for, and so I'd know how MANY were in a bag, but it's…a few dozen, I think, in a clear bag with a paper label stapling the top closed. And they look like this: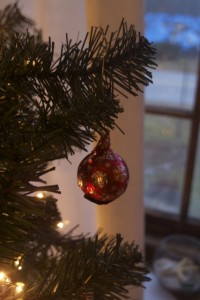 The package contains some silver ornaments, some red, some gold. At HomeGoods, they were in with the special holiday treats—all the fancier-looking foods you might give as gifts. They had a smaller bag, too, for $4, if you do not have QUITE so many people in your household.
Oh, for something else I can tell you about but have issues trying to link to, I highly recommend this Advent/countdown-to-Christmas tree by Melissa & Doug:
I mean, I DID just link to it, but (1) it's not in stock on Amazon until December 14th, which I think we can all agree is A LITTLE LATE IN THE GAME, and (2) it's more expensive on Amazon than I paid. I found it at HomeGoods for $14.99. It's a magnetic wooden tree, and the base is a little bin that holds 24 assorted magnetic wooden ornaments and a magnetic wooden star for the top. It works out nicely at our house (24 ornaments + 1 star = 25, 25 divides evenly by 5 children), except that then I never get to choose the day's ornament, and I REALLY want to. Next year I think we will do something like 24 ornaments divided by 5 children plus 1 mother = 4 ornaments each, and then Paul can do the star.
ALSO, I remembered my Christmas EARRINGS! I can't believe I'd forgotten them! Today I'm wearing the little metallic gift-bow stud earrings I bought at Claire's last year in a multi-pack of assorted colors: PERFECT for work, since I'm not supposed to wear dangling earrings. If you want to spend a little more and/or want something for your wish list, may I recommend these?
Sienna Sky Car & Tree Earrings. They are my top-favorite holiday earrings, especially since they feel right any time after Thanksgiving, and because "cars carrying home trees" is one of my favorite holiday-season sightings. They are rather SMALL and LIGHT; that's either a warning or a selling point, depending on your preferences.