Matti writes:
I would like to request a Christmas cookie reference section, as we did for Thanksgiving vegetable side dishes. Only the proven winners we love and rely on. I want to try a few new cookies every year, but very quickly get overwhelmed when I start looking around online. "The 14 Holiday Cookies You Should Be Making!" "The Only 4 Cookies You Need to Make This Christmas!" "The 3 Million Cookies of Christmas!"

I would love some recommendations that come with reasons, advice, history. Alas, I have no real life cookie swaps to attend. :)
What a good idea! I would love this too! I will tell you one I make that's really really really easy: I melt Andes mint-chocolate chips and dip Oreos in them. You can dip the whole thing, or you can do what I do which is to hold onto the bottom cookie of the Oreo and dip the top and sides, then quickly flip it over onto waxed paper, dry-side-down, to let the chocolate run down a bit and cover the part I was holding on to. I try not to stir the melting Andes too much, and then they come out a little streaky with the lighter mint part not entirely mixed into the chocolate part. They are so yummy and they SEEM fancy but they're easy. You know, I'll bet I have a photo of them somewhere… YES, I do!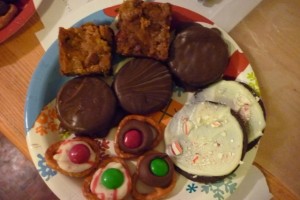 This photo reminds me of another easy recipe. There are these chocolate wafer cookies (kind of like Oreos without the filling, and a little bigger) sold in the baking section of my grocery store rather than the cookie section. They're called something unmemorable ("Famous Chocolate Wafers"), and they look like this:
I melt some white chocolate wafers; I get the Wilton ones that look like this:
I also crush up some candy canes. I spread some melted white chocolate on the flatter side of each chocolate cookie, then sprinkle it with the crushed-up peppermint. I let them cool/dry on waxed paper.
The M&M things in that picture are fussy but not hard. I saw the recipe on Pinterest, and I loved how you could change the M&M colors for whatever the season/event. And you can use dark chocolate Kisses, or milk chocolate, or you can use the Hugs, or whatever. At Christmas I like to use the candy cane Kisses.
And also I make these Chocolate Mint-Chip Cookies.