Rob has CHOSEN HIS COLLEGE. He'll be going to one that's about a 7-hour drive away, which is a nice distance: far enough to feel Nice and Far for him, but close enough that if something were to go wrong I wouldn't have to try to book a flight; close enough that we can drive him with all his stuff, rather than trying to ship it or fit it on an airplane.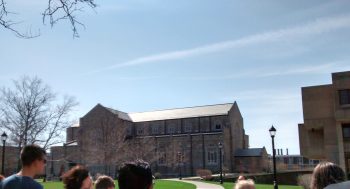 Well. That whole college-selection process was an…invigorating time. And now there is a brief lull before we start all the freshman-prep stuff, so this seems like a good chance to talk about what it was like to go on all those college info sessions and tours. Those were on my list of anxieties before starting the college-search process with Rob, so I want to tell you how much easier they are than I'd thought. Here are the notes I have from the last session/tour, which was when I decided to write this post:
• don't wear loud shoes
• it's so boring seriously
• shows you how old you are when you look around at other parents
• so many stairs
So basically that sums it up, but I'll fill in a few sparse places.
To start with, colleges WANT you to do these. I don't know why I imagined I was somehow inconveniencing them by visiting: they do info sessions and tours ALL THE TIME. Some of the more popular colleges do them again and again all day, every day of the week. Usually they have a schedule posted online; usually you need to register ahead of time with information such as the child's name, address, phone number, email, date of birth, high school graduation year, areas of interest—things like that. (This will then get you on that college's mail/email list if you weren't already.)
Times that are convenient for you to go (Thanksgiving break, Christmas break, spring break, weekends, etc.) will either be unavailable or will fill up early. I was worried that if we went during the summer we would miss getting the Real Feel of the student-occupied campus, but I didn't see a huge difference except that it was less comfortable weather-wise.
It is common for the students to be accompanied by family members. I felt awkward about this when registering the first time but it's so totally normal. Many kids had one or two parents AND a sibling or two; Rob was accompanied by one parent plus William (since William is two years behind Rob and could get an early start on his own college search). It would not, however, be a good place to bring MUCH younger children—like, anyone in the run-around-in-the-aisles/cry-interruptively stage of life.
It is a little alarming, by the way, to look around at all the other parents and realize that's how old you are too. It is especially alarming seeing them/yourself in such sharp contrast to all the young, vigorous students. A person can end up feeling a bit middle-aged and frumpy and done with the meat of life, is what I'm warning you about. I tried with mixed success to turn this into a feeling of solidarity with my peers.
The most common info/tour system we encountered was this: you could sign up for just the info session or just the tour, but usually the info session went right into a tour afterward. So if you see that info sessions are offered at 9:00 a.m. and 1:00 p.m., and tours are offered at 10:00 a.m. and 2:00 p.m., you can feel confident that the 9:00 a.m. info session is followed by the 10:00 a.m. tour, and the 1:00 p.m. info session is followed by the 2:00 p.m. tour. (On our first couple of college visits, I was worried that the info session would take, say, 1.5 hours—so then we couldn't sign up for the 10:00 a.m. tour. But no: the college realizes you will probably want to do both, and they don't make you hang out for several hours in between.)
Or you might end up doing them separately. For example, some colleges have traveling info sessions: the child's high school might host one, or in our case we attended one at a local hotel conference room. The school was far enough away that we wouldn't have visited just on a whim, but after we went to the info session we were interested enough to book a tour and make the drive. We could have re-attended the info session once we were on campus—but since the college had Saturday tours but no Saturday info sessions, and since we were available on a Saturday, it all worked out perfectly.
The info sessions and tours are free. About half the time, they included free coffee and water, maybe some candies or cookies. Sometimes there are optional expenses: for example, a couple of tours ended by saying we were welcome to try a meal in the school cafeteria if we wanted to, but there was a cost for that.
I will say this: I found all info sessions and tours to be IMMENSELY BORING. One was kind of cool because it was at a famous college so I was sitting there thinking "I can't believe I'm sitting here in this well-known place!" But then the person from admissions came in and started talking, and it was just as boring as everywhere else.
Boring but INFORMATIVE—as long as you realize you are sitting through a sales pitch. The information session tells you what the college thinks are its selling points. You will find out which buzzwords the college wishes to push: unique, cooperative, diverse, opportunity, innovative, excellence, hands-on, interdisciplinary, passion, real-life experience, selective, progressive, driven, research. You can recognize which words the college decided on because they will say them comically often until you are thinking "OKAY WE GET IT YOU WANT US TO KNOW YOU'RE TRYING TO SHAKE THE PRIVILEGED WHITE KID IMAGE" or "YES YES EVERYONE IS A GENIUS AND STUDIES CONSTANTLY, GOT IT."
The info session usually takes place in a largish room with dozens or hundreds of people (though we went to one that was just five students and their families) and lasts about an hour. They will cover things such as: which majors are most common; what their acceptance rates are; a little about the application process; what they look for in a candidate; the student-teacher ratio; opportunities to study abroad or at other local institutions; a little about how they help graduates find jobs; cost of tuition, room and board, fees. Most will give you written materials as well, with pretty much the same info.
After the info session there is time for people to ask questions. Every single session-leader handled this beautifully so that it didn't go on and on and on, but there were usually a few parents asking really specific-to-their-own-child questions that were a little tiresome for the rest of us; for example, one mother asked if the session leader could please list all the classes needed for a marketing major. (Beautiful handling by session leader: "Oh, great question! I don't have that information with me, but if you stop at the Admissions office on your way out we can certainly get that for you!") One father wanted to tell everyone that he had been quite the soccer star when he attended there, and to ask how had the team been doing since then because his son wanted to play soccer too.
After the Q&A, the group is divided into tour groups, usually of about twenty people in each (or of course fewer if the whole info group was fewer than that). (Usually there was no pee-break between session and tour, so find a bathroom before the info session if you can. You could also sneak out during the last 15 minutes of the session to pee.) One time we got to choose our tour guide: five of them introduced themselves and said their majors, and then we could pick which one to go with; this was nice because we got someone with the same major Rob is considering, so she knew about and emphasized stuff he was interested in. But most of the time we were counted off and then assigned. The tour guide is a current student doing a memorized routine. They walk backward while the group follows them and listens; typically you can ask questions as you go and the tour guide generally made it easy/comfortable to do so.
The tour lasts an hour or so, and typically includes a lot of walking and a lot of stairs; I recommend wearing comfortable shoes and bringing a water bottle. The tour usually includes some academic buildings, a dorm (but only once the inside of a dorm room—sometimes the college offered a separate housing tour), a cafeteria, the library, a social hang-out area, the gym, a big open grassy area, a sculpture, and anything else the college wanted to draw special attention to (a self-sustaining green area, an on-campus museum filled with student art, a fountain donated by someone famous, a concert hall, a 3D-modeling lab where students built a working car, etc.). Note: many campuses have multiple Pokéstops.
After the tour, you are dismissed. The tour guide usually invited anyone with additional questions to stay after and ask them. We almost always had to use that opportunity to ask the tour guide how to get from where we were back to our car. Fortunately the info session usually includes a map, too.
Oh, and I highly recommend bringing a snack: it seemed like we were always starting the process in the late morning and then going through to early afternoon, so afterward we were hot, tired, cranky, hungry, and in a strange city. Having a sneaky granola bar on the tour made things so much more pleasant.
Which reminds me of another issue: parking. This mystified me. The college would have online info about attending tours, and would instruct us to park in Lot A. And then Lot A would have ten parking spaces. And it would be full, because dozens or hundreds of people were attending the session/tour, and there would be no back-up instructions. So! Print out a campus map to bring with you, and investigate alternate visitor lots ahead of time if possible—or just be prepared that you might need to do so on the spot. I liked to allow quite a bit of padding so that we could (1) find parking without me feeling like screaming, and (2) walk from that far-off lot to Admissions, and (3) FIND Admissions, and (4) find a bathroom.
To sum up:
• investigate parking and allow extra time for it
• pee right before the session
• comfy shoes, water bottle, snack
• it's pretty much always an info session followed by a tour
• BORING AND TIME-CONSUMING—but worth it
• take notes and save the paperwork, because they all start to blend together