"Not too terrible!," is the short answer if you've got stuff to do.
Here's what part of Letter 4883C looks like: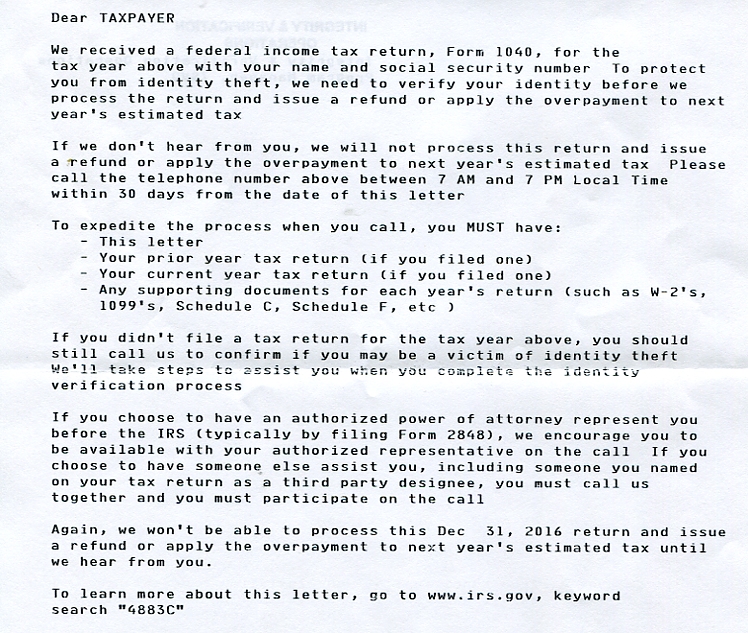 It is signed "Sincerely yours, INTEGRITY & VERIFICATION OPERATIONS," which is a little funny if you are still in the mood to laugh after receiving a letter from the IRS. "Sincerely yours"! And then all-caps! From not-a-name-of-a-person! It's funnier to me now that I've already dealt with the letter.
The whole thing looks shady as heck, so first I spent some time verifying that it was a real letter from the real IRS. But they use the real IRS website on their letter, and a real IRS phone number, and the real IRS website has a section on this letter. Also, the postage is paid by IRS.gov.
I looked up online to see if I could figure out why we got the letter, but apparently it's a bit like getting pulled out of line at the airport for additional checking: sometimes it's for a reason and sometimes it's not, and most of the time you don't get to know the reason. I also found reports of waiting 1.75 hours on hold to speak to an agent, so I waited until I had a whole afternoon ahead of me, and I had a book available.
They want you to have available your tax forms from the most recent filing and the previous year's filing, including all schedules, W-2s, 1099s, etc. This gave me some anxiety: I was worried they would ask for some information and I would have to riffle endlessly through papers to find it. (This is exactly what happened, but they are used to it.) So I put all the stuff in piles on the bed to at least reduce the number of papers I would have to riffle through for each question: a pile for the tax return itself, a pile for the W-2s, a pile for the 1099s, and a pile for everything else—in two rows, one row for 2015 and one for 2016.
Then I dialed the number. They give you an estimated hold time right at the beginning, which I appreciated: if they'd said two hours, I would have called back another time. But they said 15 minutes, and that's about how long it was. They are, as it turns out, the type of business that thinks you want a voice to come on the line every 20 seconds to thank you for holding and assure you that all available agents are helping other customers, and then remind you again to have your tax returns, W-2s, 1099s, etc.—so that was annoying. But tolerable.
An agent came on the line sounding like this was not his dream job but he didn't blame me personally. He also had a cold. Imagine Robert De Niro, two years from retirement at a depressing desk job, and with a headcold. He's not mean, he's just really tired and he's not having any fun.
Anyway! What was clearly happening was that he was reading off a screen as it told him what to ask me. He asked if I had received a letter asking me to call this number, and which letter it was, and whether I was calling on my own behalf or someone else's; then I think he asked for the name or names on our tax return, and then for the first Social Security number on the tax form. Then he asked several other questions. One was how many dependents we had claimed in 2015. Then he asked for the Social Security numbers of those dependents. I had to riffle to the very last page of our taxes; I used the Coping Thought of "This must happen to pretty much everyone." After I'd listed four of them, he said sorry, he needed me to go back to the beginning and tell me their full names. Then he needed me to go back to the beginning and tell me their dates of birth. There was apparently some issue with the fifth dependent not showing up on his screen, but that seemed to be an issue only for him, not for me: that is, he was keeping himself from saying his computer was stupid, but he didn't give me any feeling that my forms were the problem. He said he could see it was five dependents but that for some reason it wouldn't show him the fifth. Robert De Niro sigh, and a big long sniff followed by another sigh because he cannot stand to blow his nose even one more time today.
He asked if I'd worked in 2016, and I said I had, and he asked for my employer, and I told him the name of the in-home elder care agency, and he said "Excellent, yes." Then there was a silence as he typed. I felt uncertain, because I also earn money from the ads on this blog, but that's called "non-employee compensation"—so should I mention that or not? I decided to err on the side of MORE information, so I said into the pause that I wasn't sure if this was the time to mention it, but I also had non-employee compensation. He said "From who?" and I told him, and he said "Perfect!" in a voice that to me communicated "Good girl, you got it right!"—I mean, in a good way, not in a condescending way. More like I had given the right answer and he was pleased. I was feeling as if however he felt about his job, he and I were getting along and he didn't mind this call as much as he minded some.
I think that was all he asked. When he said something about number of dependents being weird, I said I wondered if it had anything to do with one of our dependents turning 18 this year—he's still a dependent, but he no longer gets us the Child Tax Credit, so…maybe? And the agent said yeah, maybe so, and then he said "I mean, it's not like we got two forms from you or anything, so it must be something like that." And I seized upon this and said, "So it doesn't look like it's an identity theft issue? I was worried that maybe someone else filed a form using our names," and he said, "No, no—we just got the one form, so something else must have triggered it."
He put me on hold for about five minutes while he "returned the tax return to the queue for processing," and then came back and said everything was all set and started reading off a screen again, something about now the forms were submitted for processing and I should call some other number if the refund wasn't completed in 9 weeks.
And then it was done! The whole thing took about 40 minutes, about half of that time on hold and half talking to the agent. It was a little scary to get the letter and a little scary to deal with it, but in the end it was okay. Well, or we'll see how long it takes to get the refund now.
Update: I thought it might be good to add a data point for how long it took to get the refund after this. I called them on April 24th, and we got our refund on May 11th: 2.5 weeks. That's better than I was expecting.