My sister-in-law and my sister-in-law-in-law and I like to go to a Holiday Performance each December: a concert or a musical or a play or the Rockettes or something. Last year I saw my sister-in-law's great holly-leaf/berry earrings and realized that I needed Christmas earrings, so over the past year I've been working on that. First I bought these:
It's so hard to tell size from a picture, isn't it? And then it's hard to describe it: one person's "small" earring is another person's "large." I consider them small/medium. The tree part (not including French hook) is almost exactly from the tip of my finger to the end of the first knuckle.
Next I bought these:
At first I thought I only wanted ONE pair of decorated-Christmas-tree earrings, but (1) it turns out I don't like many other types (so far I haven't seen any stockings, snowmen, or Santas I want), and (2) these are quite different in style, and (3) I JUST WANTED THEM OKAY. The first pair is foil/glitter/jewel/gold; this pair is silver/enamel. They're a little smaller than the first pair: the tree part of the earring goes from the tip of my finger to the top of the first knuckle.
After a lot of waffling, I bought these:
I'm still not even sure they're my style. But they went on a good sale, and they DID keep catching my eye again and again, and I DID want more than just Christmas-tree-shaped earrings, so finally I bought them. They're a little shorter than the first pair of tree earrings, but because they're twice as wide they seem medium-sized to me rather than small/medium.
Then on a shopping trip with my sister-in-law and sister-in-law's sister, I bought these:
They're by Sienna Sky, and I hope they come back into stock soon because these are the ones I MOST wanted to recommend. I'd thought my plan was to wear Christmas earrings the whole month of December, but it turns out I still feel a little funny wearing the tree/wreath ones (not WRONG, just NOT INCLINED). But the car bringing home a Christmas tree is EXACTLY what part of the year it is now! PRE-Christmas! Christmas PREP! These are the smallest of the earrings: the tree and car together are only as big as my thumbnail. And they're made of a very light material, if heavy earrings bother your ears: it's like they're laser-carved out of…curved…I don't know. But they're very light. Sleigh with tree are pretty cute, too. Or cardinals sitting in wreaths. Or mittens. Or Christmas moose. Or snowboarding polar bears. Or candy canes. Or Rudolph. Or, okay, I guess I DO like these snowman earrings. But I think the car/tree ones were the BEST.
But nothing I'd bought seemed to have the over-the-top glitz and glamor I wanted for a Christmas SHOW. I have a gold sequined tank top I'm going to see if I can make work (my money is on "no"), and not a single pair of these earrings can stand up to GOLD SEQUINS. So this weekend I tried Claire's, and THAT is what I am talking about: I bought one set of six pairs of dangle earrings that look like big Christmas lights, and for Elizabeth one set of stud earrings that look like little shiny holiday bows: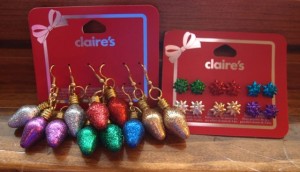 They were supposed to be $10.50 per 6-pack, but they were having a "nothing over $5" sale so I got all 12 pairs for a total of $10 and was very very pleased. I looked for them online so I could link to them, but they weren't on the site. Elizabeth can wear the little bows if they don't bother her ears, and I am looking forward to mixing and matching the bulbs.