Listen, where would you go to purchase a shawl? Or would you order one online and hope the material felt nice? I have been unusually chilly this winter and I feel the need of another easy-on/off cozy layer.
I finally have pictures of the results of my pottery class. First, two group shots [edit for clarity: that is, group shots of all the pieces I made during the class]: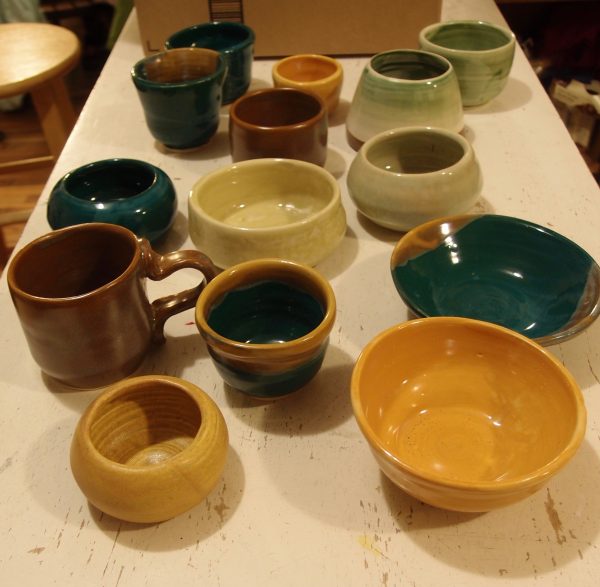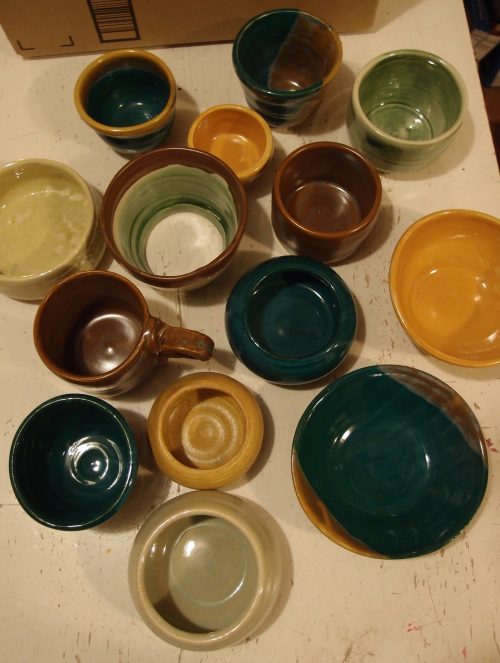 In the second photo you may have noticed a little…er, issue with one of the pots.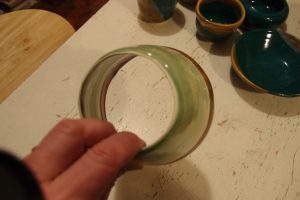 When you take a partly-dry item and put it back on the wheel and use a series of graters/scrapers to smooth and shape it, that is called "trimming." One potential issue with trimming is that you can trim too much, and cut through the item or make it too thin. I was trimming this item when I noticed what looked like a crack near the base. I picked it up—and the entire bottom fell off. I sent it off to be fired anyway, figuring I could still use it as glazing practice, which I did. Now I'm throwing it out.
Another item bound for the trash: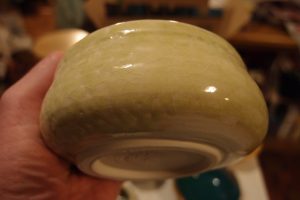 It's hard to tell from the photo, but the glaze was too thick and it clumped up. Another issue is that the underside of the pot is lower than the bottom of the pot, which I discovered when I took it off the glazing table and a large swipe of glaze stayed behind. I sent it off to be fired anyway, because I wanted to see what clumpy glaze would look like. (Answer: "clumpy.") A third issue, as my dad pointed out, is that it's "kind of an ugly color." I'd layered two glazes, hoping for a nice spring-leaf green, but no, not quite.
These are my favorites, especially the one on the right and the one on the left (the one in the middle is fine, but it's earlier than the other two and I didn't have the lip the way I wanted it; also, I like the color less):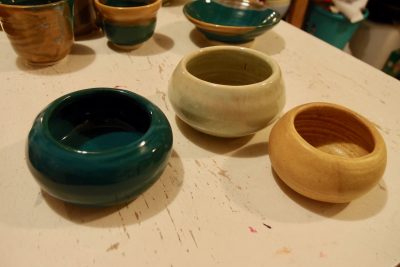 My teacher did not approve of my little rounded bowls, as they are in all ways opposite from the Tall Straight-Sided Cylinder I was supposed to be working on—but making them is what made me happy and excited about the class, instead of discouraged and floppy. I like them, and I liked making them.
This is like a little set: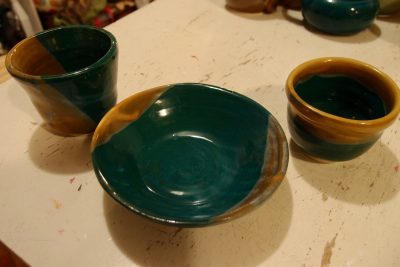 All three of those, believe it or not, began their lives as attempts to make a Tall Straight-Sided Cylinder. The little flattish bowl was, as you might imagine, a spectacular failure of a cylinder, but that made it an equally spectacular save. My teacher showed me how to stick a needle tool (basically a needle on a handle) into the item while it was spinning, to carve off the collapsed upper half, and then I salvaged the flared bottom half.
These next five are in order, and all were attempts to make a tall straight-sided cylinder. So you can see I am making SOME progress as we go down the line. The first three, when they failed to be cylinders, I trimmed the bottoms to be rounded, and added a foot, so you should look only at the shape/angle/lumpiness of their sides. Those are, left to right: Week 5, Week 5, Week 6, Week 7, and Week 8.

Nothing I have shown you so far was made before my fourth 3-hour class session. That is, the WORST item in the bunch was still made after at LEAST twelve hours of practice on the wheel. In the next picture, the three blue items in the foreground are the things Paul made in his very first class: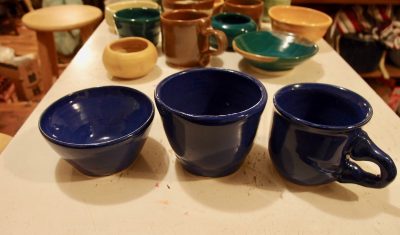 But I'm not bitter. No. I'm pleased for him. For him and HIS NEW WIFE THE POTTERY WHEEL, SINCE APPARENTLY THEY GET ALONG SO WELL