SüßwasserLeah drew my attention to this excellent article about men's forearms: Men, You Don't Understand How Hot Your Forearms Are. This was one of those special Internet "I thought I was the only one!" moments for me. I once had a dream in which a guy was fervently pleading with me to run away with him, and I didn't see his face but I gave serious consideration to the merits of his forearms: white dress shirt, rolled up sleeves, leather watchband—you know what I'm talking about. Or else you don't, but now I know LOTS OF OTHER PEOPLE DO. I don't mean BUFF forearms or whatever: just FOREARMS. The rolled-up-flannel-sleeves of the mid 1990s was a pretty good time to be alive, but I'd say the rolled-up oxford sleeves of the late 1980s / early 1990s was even better. There was a preppy boy in my youth group who…well, there isn't much to this story. He rolled up his sleeves, is what I'm telling you.
…Where was I? Oh! Do you remember the Lands' End skirted swim leggings from this post? I haven't been swimming in them yet so I can't give a complete report, but I tried them on and I love them. I love them. They are comfy and I don't feel like I'm walking around in my underwear. I'm right between two sizes so I ordered up (there are few things more discouraging than trying on TOO SMALL swimwear), and they feel like they fit without squeezing. If I see a really good coupon code or clearance, I'm going to order another pair in the smaller size. I also went on eBay (thanks for the tip, Danish!) and ordered a pair of ultra-high-waisted swim…what is it called when it looks like underpants? Anyway, a pair of those. Bikini bottoms, that's what they're called—except these go up to the ribs. Then if I want to I can wear those under the swim leggings so that I don't need to think about the tankini top floofing up in the water. I realize this sounds like a lot of layers, but I ENJOY a lot of layers. It's SECURE. I am longing for a return to this darling swim aesthetic: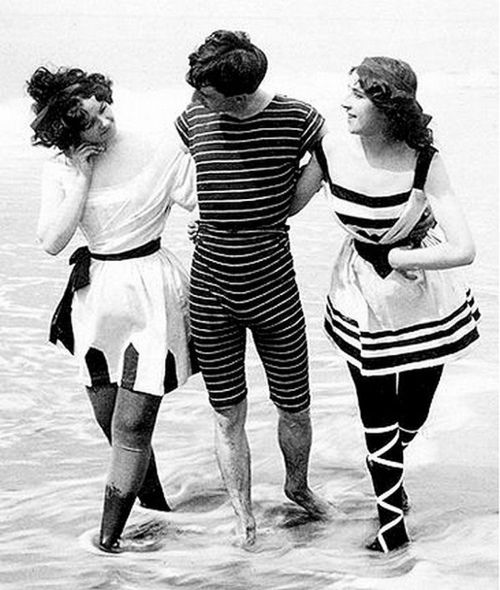 (I TRIED to credit this image, but it was on Pinterest with no source, so I did a reverse image-search and got hits to Pinterest and to a spammy site that appeared to be trying to give me a virus. So let's just enjoy it as it is.)
Speaking of a lot of layers, I attended my first track meet and nearly froze to death. The temperature was in the sixties when I left the house, and I was already wearing a thin zip-up hoodie, so I took along a heavy zip-up hoodie just in case. And by the end of the meet it was in the mid-50s, totally overcast with occasional droplets, and HIGH WINDS, and I was wearing both hoods with both zippers done up and holding hands with myself inside an overlapped-sleeve tube and I was still just about dead with cold. Also it sucked going to a track meet. It was boring as all hell and it went on for HOURS AND HOURS. But thank goodness Miss Grace told me that I MUST purchase a bleacher seat no matter how much it cost. I bought the Cascade Mountain Tech Wide Stadium Seat and it was worth every dollar—and I paid $7 more than the $34 it's currently listed for. Not that I plan to ever attend another track meet if I can help it, but I can use it for high school graduations.