I was trying to make room in the filing cabinet, and I found a folder labeled School. In that folder were some test results I had no idea I'd kept. Back in college, I changed my major about six times the first year, and finally at the suggestion of my sixth advisor went to the Career Center to do some vocational testing. Here is the result of a test that is apparently called the Strong Interest Inventory of the Strong Vocational Interest Blank. It is supposed to determine which of the six vocational types (Realistic, Investigative, Artistic, Social, Enterprising, and Conventional) a person is interested in.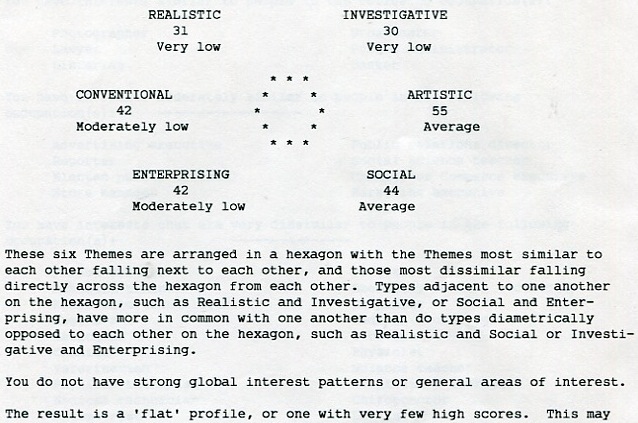 NONE strong interests! That seems about right.
There's a second page that divides occupations into lists, sorting them by how similar I am to people in those occupations. I have no matches in the "very similar" category. In the "similar" category, I have six occupations: photographer, lawyer, librarian, broadcaster, public administrator, banker.
In the "moderately similar" category, I have eight occupations: advertising executive, reporter, elected public official, store manager, public relations director, social science teacher, Chamber of Commerce executive, and marketer.
In the "very dissimilar" category are ALL THE REST OF THE OCCUPATIONS. A lonnnnnnnng list. It includes all the medical professions, most of the teaching professions, all of the science and engineering professions, and also things such as forester, carpenter, mathematician, and police officer. Nopes all around.
While all of this is a little discouraging, not to mention not very helpful, there is a sense in which it is comforting to see that I have been the same all along: low interest in pretty much everything, no feeling of having various possible paths to contented employment. It's one of the reasons I didn't feel like I was wasting decades of career growth by having a lot of kids: I didn't have anything I particularly wanted to do anyway.
But it makes it hard to figure out what to do as the kids get older. Surely I will not still be sitting in the house without a job after the last kid is gone? And yet, my job experiences so far are not giving me much hope. Well! Still many more occupations to attempt!