Do you remember the Well, what CAN you do? technique I use to make myself do more than nothing when I'm overwhelmed? I have a related thing I'm also finding helpful. It's similar in that it involves talking very nicely to yourself, ideally aloud: if there are others in the house you can say it under your breath while in another room, but I think the "aloud" part is pretty key to it working for me. And it's similar in that it's a way to get yourself to take action when most of yourself thinks action is useless and hopeless and pointless but there's still a small piece of yourself that feels it would be a good idea.
While the first technique is for overwhelmed hopelessness ("There's TOO MUCH!! I CAN'T do it!!"), this technique is for something more like when everything feels bad. And here are the questions to patiently and repeatedly ask yourself out loud, just as if you were a kind and helpful and infinitely insightful/wise psychologist in a movie or TV show: "What would help?" and "What would make it better?" The "better" here is the better of comparison ("any place upwards of where it was before") rather than the better of "I was sick, but now I'm all better." It is the better of drops in a bucket, not the better of filling it.
Sometimes you will get answers that don't go anywhere. Angry retorts, for example: "OH, I don't know, A MILLION DOLLARS??" or "If EVERYTHING ABOUT MY LIFE were different!!" Follow those paths as long as the answers continue to make practical sense ("Is there a way you could acquire more money? How would that improve things?" and "Which thing about your life would you change first? How would that improve things?"), but abandon them if they turn out to be techniques the patient is using to avoid answering the question for real.
Sometimes you won't be speaking to yourself, so you'll get nothing but sullen silence. Wait patiently, like the good therapist you are. If you start to cry, just wait for yourself to be ready to talk.
Useful answers vary HUGELY. Sometimes it's "….Eating a bowl of vanilla ice cream with Hershey's syrup and peanuts. And watching Four Weddings and a Funeral." Other times it's "The music to be on while I fold this stupid laundry, even though the radio is in the kitchen and that means really blaring it too loudly at that end of the house so that I can hear it at this end of the house." Sometimes it's "Going to Target alone, and getting a coffee from the cafe to sip while I walk around." If the request is possible to grant, I recommend granting it with huge approval and kindness: "Of COURSE you can have that! Of COURSE you can! That's entirely reasonable! For goodness' sake!" Don't forget to say it out loud. You are perhaps thinking that saying it aloud is a minor thing and you'll just skip that, but I encourage you to try it. Whispering is fine; a regular speaking voice is better. (You don't have to do the answers out loud. Just the psychologist.)
If the request is not possible to grant at that time, imagine how the psychologist would deal with that. He or she might add it to a list. "Hm, yes, an excellent thought, and let's add that to your plan for the future. Now, can we think of some ideas that would be more applicable to the present? something we could implement right now to bring you some relief?" Or he/she might want to discuss compromises/variations: "It sounds like that exact situation would be difficult; could we modify that to fit your current circumstances?" Maybe you're home with little kids so you can't go to Target alone or manage coffee while pushing the cart, but you could go with the kids and get a coffee at a drive-through to drink on the way there, and maybe that would be better than not going at all and feeling intense despair about life, which is the other option.
As the psychologist, you might expect all the requests to be indulgences/treats, but it's surprising how often they aren't. I remember back in the craziest new-baby days thinking things like, "I just want TEN SECONDS to wipe that stupid DRIED JUICE SPOT off the FLOOR so I can stop STEPPING STICKILY on it." Often you will ask the patient what will help, and the patient will reply "A spinach smoothie, a multivitamin, three fish oil capsules." Or "Getting that errand out of the way." Or "Making any headway at all on the laundry." Or "Wrestling that hard-to-clean-under heavy kitchen island two feet over so I can clean the floor under it." You are the therapist with your clipboard. Make a note on your legal pad: you're adding the idea to the list. Nod again; say, "I don't see any reason that can't be arranged."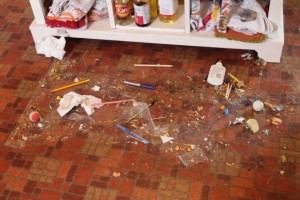 When the patient gives an answer, don't lose the momentum: go as quickly as possible from the hearing of the answer to the granting of it. Sometimes quickness will not be possible: perhaps a movie needs to arrive from Netflix, or a trip needs to be made to the grocery store for ice cream, or someone stronger needs to come home to move the counter. In that case, it is best to see if there are any other answers that have quicker implementations: doing something RIGHT AWAY is one of the best ways to make it work. Move the counter, if it can be moved; get out the blender and start making the smoothie; swallow the fish oil capsule. Don't wait, or the patient will sink into her chair, losing both heart and inertia. If the movie is not available and there is no ice cream in the house, use the calm and patient psychologist's voice to ask if there is anything else that would make things better right now. A big drink of water? Sitting outside on the steps for a few minutes with a coffee/tea/wine/beer? Warming up the laundry in the dryer for 5 minutes before you have to fold it? Loud music? Funny cat video?
The goal is not to fix it. No. That is too large a goal, and we are not attempting it, any more than we'd attempt to rebuild Rome in a day. In fact, say that out loud to the patient: "We're not looking for ways to fix it, because we can't do that during this one session. But is there anything that could make it a little better than it is right now? Any improvements at all, no matter how small?"
Psychological stuff is like home maintenance: some of it needs a professional, and some of it you can do yourself. If you have the psychological equivalent of a roof caving in, I wouldn't try to tinker with that on your own. And if you ask your patient what would make it better, and she suggests it would help to wash her hands a hundred times or put a line of burns up her arm or leap off a building, then you can start filling out that referral form, Dr. Phyllis. But if you just get sad/low/miserable sometimes for no particular reason and you know it's hormones or seasons or temperament, and there is at least a small part of you that recognizes that it is likely to pass as it always has before (there has to be at least a small part of you recognizing this, or else there will be no one to play the role of the psychologist), this technique can make a huge difference for some of us.
Psychologists often get to the bottom of things by asking YOU to get to the bottom of things. They ask you to tell them who you are, what the situation is, and what will help. Then they tell it back to you. This costs a lot of money, and is sometimes completely necessary and worth it, especially if you're not currently speaking to yourself and need a go-between, or if your problem is the kind where you really don't know and they really do, or where medication is needed. Other times, you can do it yourself. You've seen psychologists on TV; you know how they talk; you know how they nod; you know the tones of voice they use; you know the yellow legal pad. You can try using those on YOURSELF.
If this turns out to be your thing, with time it can get quicker, easier, and more effective. At first you might not be accustomed to the questions and might not know what to say or have any idea what might help. After awhile, this changes: you get a running list of things that often DO help, and you get used to implementing them. You might find yourself thinking in broader categories: Do I need to do something fun? something productive? something physical? something social? something that turns my attention away from myself? Do I need a change? a treat? a distraction? something funny? something heart-warming? a good cry? Do I need to get up, or do I need to sit down? Do I need something familiar/comforting or something new/fresh? Do I need time by myself or do I need time with other human beings? A dose of perspective? something that makes me stop thinking about myself and what I need for awhile? That sort of thing.