I realized the other day that it has been more than a year since I got my first cartilage piercing. I put a few updates on that post, but just covering the first few weeks; after that I said nothing until I changed the earring six months ago. So I think it is time for an update.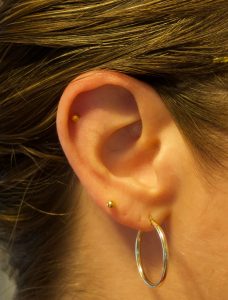 The update is that I hardly ever have to think of it or do anything about it. I don't have to treat it with saline spray anymore, though I do still rinse it after I finish washing my hair. It almost never looks puffy or pink in the mornings. I still notice it in the mirror and still like it. It is still a hassle when I get a haircut: I put a bandaid over it to protect it from the stylist's vigorous brush.
The earring is still tipped, and I still care. The angle of the piercing itself is tipped, so there is nothing I can do except learn not to mind. Actually, what I plan to do is find a completely spherical earring, so that the tippage would be unnoticeable. My current earring is a "gold ball"—but it's actually a tiny domed cylinder, so if it's tipped you can tell. In the meantime, I tell myself that NO ONE BUT ME WOULD NOTICE OR CARE, and also that maybe the shape of my ear made tipping unavoidable. I don't like to think that the piercing guy did it wrong, or that I squashed it to a different angle by sleeping on it.
I haven't changed the earring since the first time. I change my lower-lobe piercing daily and take that earring out at night, but the upper lobe and cartilage earrings (these for both) I just leave in all the time.
A couple of times, usually after getting too worked up about the tippage, I have thought maybe I'll just take the earring out and never mind about this cartilage piercing idea. Each time, I've thought: I lose nothing by leaving it in awhile longer, so why don't I just leave it in for now. Each time, I've been glad.