I may never find a good way of titling these posts. I want to make them easy to find so you don't have to sort through two hundred posts all titled "Gift Ideas" to find a gift for one particular age group, but I DON'T want to imply that the gift ideas are, for example, "boy toys" and not for girls, or that they are "girl toys" and not for boys, or that something is right for ANY 11-year-old when some 11-year-olds might be too young or too old for it. WELL WHATEVER. This is a post about what my 9-year-old boy (Henry) and 11-year-old boy (Edward) want and/or what they are getting.
Pokémon Deluxe Essential Handbook. I wonder what vast number of children are receiving this for the holidays this year? At our house, it's going to Edward, but others of us will also be interested in perusing it. I hope this is the newest version; I notice with concern that it was published in summer of 2015. There may be a hotter, more-recent version that I am unaware of.
We're also getting him a Google Play card so he can buy a whole bunch of Pokéballs on the old Android phone that no longer works as a phone so the kids play games on it.
Do you already have Munchkin? I HATE this game, but Paul and the kids LOVE it. The house is FULL of shouting and laughing when they're playing it. Anyway, Henry loves it more than anyone and will pitifully play it against himself if no one else can play it right then, so his aunt and uncle are buying him Munchkin Apocalypse, a stand-alone game that can also serve as an expansion pack for the original:
Edward saw this "I may be nerdy but only periodically" shirt, and loves it with all of his little nerd heart:
He also wants this SmartLab Toys programmable rover:
Henry loves toy weapons, camouflage gear, soldier/knight costumes, etc. This is a category I have zero interest in discussing the pros/cons/whys/why-nots of, except to say that it is going to blow his mind that I finally let him having something camo:
It's thermal underwear, but the kids wear them as pajamas. He can also wear them while firing the Nerf guns my parents are getting him:
Nerf N-Strike Elite Rough Cut 2×4 Blaster
I am sorry to see those are both only available from third-party sellers, for considerably higher prices; I wonder if Target has them in stock? Or I would just search "Nerf gun" on Amazon and see what else pops up: they all look pretty much the same to me.
Henry wants this Dungeons & Dragons Monster Manual, but I don't think we're going to get it for him:
I like to get each kid a book at Christmas, but $30 is more than I like to spend on the book gift, and our library has this one. On the other hand, he has way fewer ideas on his wish list than Edward does, and he likes to use the Monster Manual to come up with ideas for stories and games, so maybe that could count as one book gift + one toy gift.
Paul suggests getting him Coding Games in Scratch, but really Edward and Elizabeth are the ones who use Scratch. Maybe this would get Henry interested too.
And of course if we did not already own it, I would be buying them my friend's book, which is perfect for this age group:
(There, that is like six mentions out of a total planned ten thousand, so we are getting there!)
Edward wants a remote-controlled helicopter:
My parents bought these a few years ago for Rob and William, and they were a huge success. You have to go into it assuming a limited life span: they are more durable than they seem like they could be, but they do eventually break if you keep crashing them into things, and you will inevitably keep crashing them into things. I considered the amount of play we got out of them before they broke to be well worth the price.
Edward also wants this Circuit Maze game:
We will probably get it for him. I think of ThinkFun as a near-guaranteed-success brand.
And now a list of the video games Edward wants. Rob has recently allowed his old 3DS to be used by younger siblings, and so Edward wants a bunch of 3DS games:
I am getting each boy the same radio alarm clock I got for Elizabeth, but theirs are black instead of white like hers:
Ever since getting one of those Origami Yoda books from a free-book fair at school, Edward has been patiently folding paper, so I got him this Money Origami kit and I hope it's good: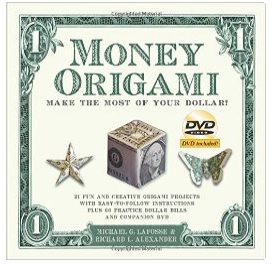 I did not spend $15 on it; I found it at Marshalls for something like $7.99.