Are you in the mood for something FUN and COLORFUL? So was I.
My Betsey Johnson suitcase, purchased for this recent trip when I realized my suitcases were all too small. I did not pay the $200 it is listed for on Amazon; I bought it for $69.99 at TJ Maxx, plus I had a $10-off coupon. Of course after just ONE trip through the airport luggage system the white background is SCUFFED AS HECK. But whatever: I knew going in that that would happen, and I had/have made my peace with it. Elizabeth helped me pick it out, and we both felt it was Worth It.
K. Bell Sneaker Socks. I take off my Converse sneakers, and I am still wearing Converse sneakers! …Sort of.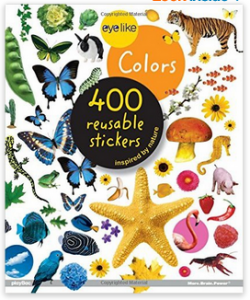 Eyelike Stickers: Colors. I DO like stickers. I really did buy these for no reason other than COLOR. They are sitting in my bill-paying pile, waiting for me to figure out what to do with them. I've stuck a few on bills.
Craft Tape Dispenser. There is approximately zero chance of me paying nearly FORTY DOLLARS for ten rolls of colored tape. But isn't it pretty to look at? A++ marketing.
Rainbow Curlie Spinner. I am ON BOARD with curlie spinners. I have this one in two sizes.
Parakeet Sticky Notes. In my cart since 2011. (I hardly USE sticky notes. If I had EXTRA-SPECIAL ones, I'd end up hoarding them.)
Page-marking Post-It notes. I put these in high-school-kid Christmas stockings.
Natural Histories: Postcards of 60 Rare Book Illustrations. I ABSOLUTELY have enough postcards. I still bought these when they dipped under $11.
Happy Pencil Cases. I saw them; I bought them; I can't really explain myself further.
TeeHee Striped Crew Socks. My mom wanted socks for her birthday. She likes stripes. I got her these.
Felines in the Garden Puzzle. In addition to striped socks, my mom likes cats, and 300-piece puzzles. I got her this 300-piece cat puzzle for Mother's Day.
French Bull spreader knives. I really have no use for little spreader knives. But if I DID have a use for them, these are the ones I would buy.
Pop Beads. I had forgotten ALL ABOUT Pop Beads! I'm getting these for Elizabeth for Christmas.
French Bull Yoga Bag. On my wish list. I'm not using it for yoga, though.
Sharpie Assorted Markers. You BET I have a set of these. It bugged me that they didn't put the purple in rainbow order, but WHATEVER, you can take them out of the package as soon as they arrive.
Forever Pet Stamps. I bought four books of them. Gotta pick JUST the right envelope for the snake stamps.