*runs up you you, panting heavily, and grips your upper arm*: DID YOU KNOW YOU COULD JUST BUY EAR-PIERCING EARRINGS ON AMAZON?? FOR HARDLY ANY MONEY??
I waited until my order arrived to tell you about it, because it felt as if it could not be the case that I would buy a 12-pack of assorted ear-piercing earrings for about a dollar a pair and have them be, like, actually the same earrings they pierce earlobes with at thirty bucks a double-pop. But now I have seen it with my own eyes. (In fact, you can also buy an ear-piercing gun, but NO THANK YOU, I'M ALL SET.)
I wanted ear-piercing earrings for MULTIPLE REASONS:
1. Elizabeth wants to change her earrings about twice a year, so I like to get her earrings she can just leave in all the time
2. I am the same way about my upper-lobe piercings: I just like to leave a pair of earrings in all the time without taking them out or changing them
3. In 6-9 months I will be able to change my cartilage piercing, and I will want something very surgical-steely for that
I have little mini gold studs I wear in my upper-lobe piercings, and because "piercing is free, just buy the earrings," and because I didn't realize I could buy locking-back surgical-steel earrings anywhere other than a piercing place, I paid THIRTY DOLLARS for those earrings (I did not need another set of piercings, just smaller studs than I'd had my ears pierced with). Now I find the EXACT SAME ONES for slightly over a dollar a pair. This makes the whole thing seem like a rip-off. Which is silly, because all along it has NOT been free piercing, it has been $30 (or whatever) for piercing-including-earrings. But they SAY it is $30 for just the earrings, and I am very irritated by irritating marketing ploys. And I am so annoyed that they followed right through with that ploy and actually did charge me $30 for just the earrings.
Anyway! I am sorry, I am so wound up with excitement, I am not composing this post in an organized fashion.
What happened was this: I was writing the post about my fresh new cartilage piercing, and I wanted to find a picture that illustrated what I meant by "non-bezel-set," because I'm not sure what that other kind of setting is called (I would call it "regular," maybe). And the hits I got for images of ear-piercing earrings included some from items listed on Amazon, like this one, that looked VERY VERY MUCH like the earrings I'd been offered at my recent piercing session:
Surgical Steel Ear Piercing Studs 12 Pairs Mixed Colors White Metal
And so I clicked through, and I read the details, and I read the reviews, and with hope and disbelief I ordered three sets: the silver-looking bezel-set ones above, the same basic deal in gold-looking metal, and a 12-pack of mini gold studs. And they arrived, and they appear to be FOR REAL. Behold!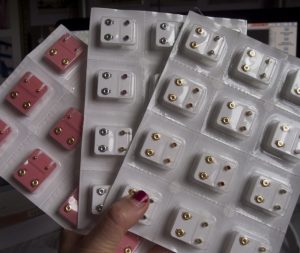 There is perforation between each pair of earrings, so you can tear off just one set. You could give a few pairs in her favorite colors to a niece with recently-pierced ears, and keep the rest for yourself!
They have the sharp points and the locking backs. They look identical to the ear-piercing earrings I've bought before (for THIRTY DOLLARS A PAIR). They are glorious. I love them. I am so happy.
This is what the backs of the packages look like (blue is what's on the back of the two sets of colored stones; red is what's on the back of the gold studs):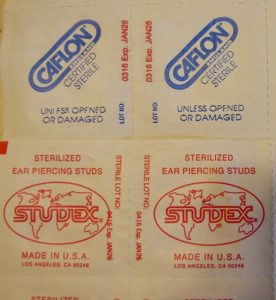 I am especially pleased with the 12-pack of mini gold studs (2mm instead of 4mm like the usual piercing studs). I've been wearing mine for so many years that the plating has mostly worn off and they look silver, but DARNED if I was paying another $30! Now I have TWELVE PAIRS, all shining and golden! But those are also the ones I'm most nervous about, because they are a different brand than the others, and they are the only one with a review saying they irritated the reviewer's ears so she wondered if they were not surgical steel as advertised. Well! We will see!
Another set I considered but decided against is this one: it has only six pairs, and includes duplicates from the other sets—but it has stars, hearts, and pearls. I also considered this set, which is what I was originally looking for when I set out to find a picture of what I meant by "non-bezel-set"/"regular" (and here they are in silver-color). Turns out it's called "prong style."