Lesley writes:
Hello! We would love your help in deciding on a name for our baby girl who is due any day now! We're assuming this will be our last child; we have a son named Oliver Dawson who we sometimes call Ollie. Our son's name fits him and our family perfectly- we're looking for just the right thing for our daughter. My name is Lesley and my husband is John; our last name is Porter.

We're looking for a girl's name that inspires creativity and strength, may be nature-inspired (but not too granola), and is original without being too different. We will likely use Wren (a name I've always loved) as her middle name. If our son was a girl we were going to use the name Lila/Lilah Katherine, but now the name seems a bit too delicate for me, although my husband really likes it. I'm also concerned about Lila/Lilah becoming incredible popular in the coming years.

I've always liked "L" names (such as Lily, Lia and Lucy), but worry these are getting too common as well. I love the name Lola (Lola Wren?) but my husband's not a fan (thanks to The Kinks song). We both really like the name Nola but I'm not sure how it sounds with our son's name (Nola and Oliver? Oliver and Nola?) or how well it flows with our last name (Nola Porter?). I like the name best as Nola Wren, but who really uses middle names anyways?

Other candidates include Ruby, Elsie (but my husband would insist the actual name be Elsinore, which always makes me think of "snore"), Clover, Gwen, Chloe (but perhaps way too popular now), Clara, Laurel or Leta. We'd love to hear your thoughts or any other ideas that you have.
Could we talk your husband into Elsa instead of Elsinore? I'm not sure the repeating -or- in Elsinore Porter works, which may be contributing to the "snore" issue. Elsa is adorable on a little girl and yet perfectly dignified for a grown woman. Elsa Wren works great, and then you've got Elsie for short. Elsa Porter; Oliver and Elsa; Ollie and Elsie. I hesitate only because Lesley and Elsie seem very close—but that might be pleasing.
Lila is only at #163 as of the Social Security Administration's 2011 data (Lilah is at #306), but it's made all that progress since entering the Top 1000 in 1998.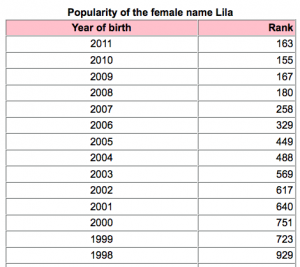 (screenshot from the SSA baby name site)
On the other hand, its ranking over the last three years of data (#167 in 2009, #155 in 2010, and then back down to #163 in 2011—plus the relatively tiny climb from 2008 to 2009) makes me wonder if it's slowing or even stopping: some names go skyrocketing right to #1 (Isabella, for example, which had a similar climb that kept going), and others go alarmingly fast but then…just stop. And the 100-200 rankings are a lovely, lovely place to stop: the names in that range are for the most part common enough that you won't get "WHAT??" or "Where did you get THAT?" reactions, but you also won't get "Yeah, we've had a lot of THOSE, ha ha!" at first-grade registration. (That is an actual quote from the year I registered one of my kids. The registrar then hastily added, "…Er, it's a great name!")
Lila Katherine is beautiful (the possible nickname Lila Kate adds sass), and so is Lila Wren. A few more options similar to Lila:
Dahlia
Delilah
Eliza
Isla
Mila
Willa
My main concern is that some of these are a lot of L with Ollie. But perhaps you would call him Ollie less if it caused an issue, or perhaps you'd call him Ollie only when you weren't also saying his sister's name, or perhaps it's not too much L anyway.
Lia is very pretty too, and less common than Lila.
I also think Laurel is wonderful, and surprisingly underused. I find it a little difficult to say with Porter, though.
Laurel and Lila make me think of Lorelei. Lorelei Porter; Oliver and Lorelei.
I think Nola goes very nicely with Oliver. I think it runs together a little bit with the surname, but it doesn't create any displeasing or confusing combinations. And I think very quickly you'd start automatically putting a tiny half-pause between the two names ("Hi! We have a nine o'clock appointment; this is Nola, Porter"), which would completely eliminate any issue.
While I often say that a middle name is a safe place to put a not-very-liked honor name since middle names rarely see the light of day in normal use, the middle name position is also a great place to put a name you'd LIKE to use. If your favorite is Nola WITH Wren, it's only three syllables total—I wouldn't be surprised if you ended up using the first-middle combination like that. I think it's a very pleasing combination to say (if I were with you and you used it, I think I'd pick up on it in about 2 seconds), and I like that it gives you a chance to use the name you've loved so long.
I also think Nola Katherine would be very pretty.
Nola makes me think of Nadia. Nadia Porter; Oliver and Nadia.
The name Marin/Maren has sea/nature connotations, and also has Wren built into the sound.
Karenna has the Wren sound, too. Karenna Lee would have part of your name in it, or maybe there are other names that seem too common or otherwise unworkable as the first name but would be perfect as the middle.
Nola and Lola and Clover make me think of Violet. Violet Porter; Oliver and Violet; Ollie and Vi, or Ollie and Lettie. Not very good with Wren, though, I don't think, but not terrible.
I also think of Simone. Simone Porter; Oliver and Simone. Again, unfortunately not very good with Wren.
Also Naomi. Naomi Porter; Oliver and Naomi. I love the combination Naomi Wren.
Nola and Lola and Gwen make me think of Gwendolyn. Gwendolyn Porter; Oliver and Gwendolyn; Ollie and Gwennie.
An L name from my own finalist list is Liana. Liana Porter; Oliver and Liana.
And I love Linnea. Linnea Porter; Oliver and Linnea; Ollie and Linnie.
Or Lena would be pretty. Lena Porter; Oliver and Lena.
Or Lydia. Lydia Porter; Oliver and Lydia; Ollie and Lyddie.
I love the name Clover so much. I wish it would have worked out to use something like that for my daughter's middle name. If you go with a first name that doesn't fit with Wren, Clover would be the very next name I'd try.
If Chloe is too common, I suggest Cleo. It's funny how two names can be so similar (a mere vowel swap apart) and yet one is Top 10 and the other isn't even in the Top 1000. Cleo Porter; Oliver and Cleo.
Chloe and Ruby make me think of Phoebe. Phoebe Porter; Oliver and Phoebe. I wish it didn't give the initials P.P.
A name like Magnolia might give you everything you're looking for: nature but not too granola, creative and strong, unusual but not weird; and with nicknames of Lia, Lola, and Nola as well as Maggie. Magnolia Porter; Oliver and Magnolia; Ollie and Maggie, or Ollie and Lia, or Ollie and Nola.