I own a lot of mugs, and I LIKE to own a lot of mugs. I am now at the "If a new mug comes into the house, an old mug must go out" stage of mug-ownership, but only because I cannot figure out a way to steal another cupboard shelf.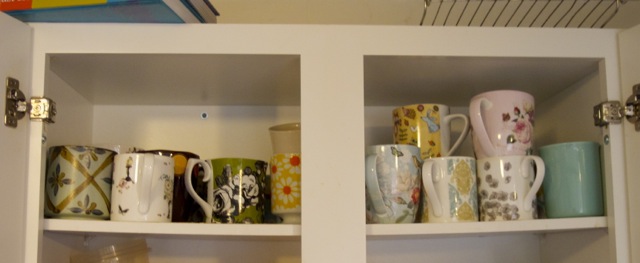 Notice that the shelf is curving under the weight of all those mugs.
Here are my current favorites, from largest to smallest:

And now the individual mug profiles: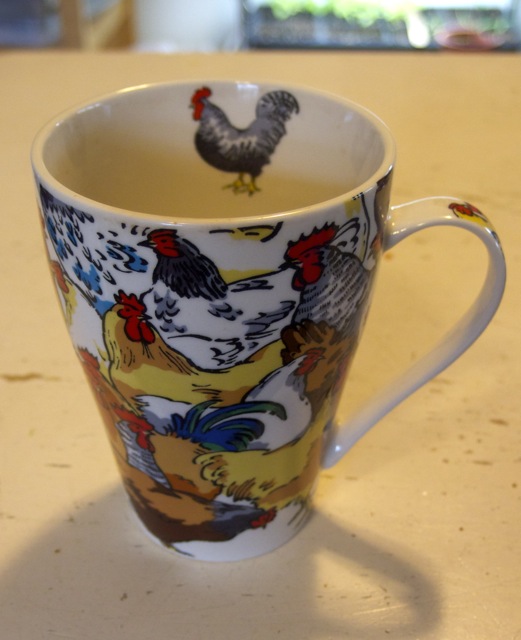 The chicken mug. It has come to my attention that they are roosters, but I still think of it as the chicken mug. It is one of my largest mugs; I most often use it when I am having coffee as a beverage with a meal, as opposed to when I am just having a cup of coffee. This is a mug I resisted buying, because it is so large and because its shape seems tippy. But I could not resist the pull of the chickens, and then I was so glad I'd given in. I wish there was not a chicken on the inside of the mug, even though I found that charming when I bought it, because I feel a little uncomfortable if the hot coffee overlaps him—as if his feeties will get burned.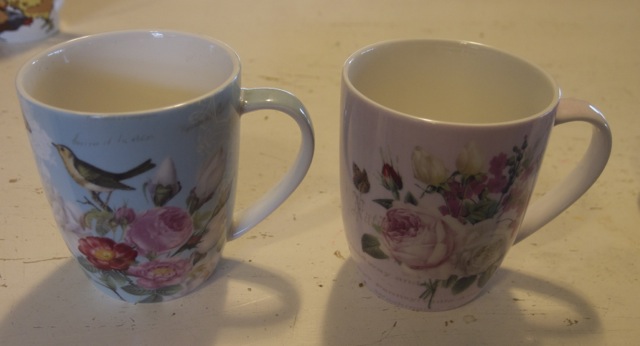 These two mugs are a little embarrassing, because I bought both of them for other people, thinking "This is a gorgeous mug—not my style, but perfect for so-and-so"—and then got them home and couldn't believe I'd considered giving them away, and kept them. Even more embarrassing, it actually went like this:
1. Purchased light blue mug for recipient.
2. Brought light blue mug home and couldn't believe I'd considered giving it away.
3. Purchased pink mug as replacement for recipient.
4. Brought pink mug home and couldn't believe I'd considered giving it away.
With the pink mug, I even stood there in the store explaining to my mother why the pink mug was different than the blue mug and I Really Wouldn't want to keep it for myself.
These are both largeish mugs, not as large as the chicken mug but pretty good as beverage mugs. I usually have to add a little more coffee to them before I'm done with breakfast. I think one reason I love them so much right now is that my eyes were hungry for spring colors. I may love them less in the fall/winter.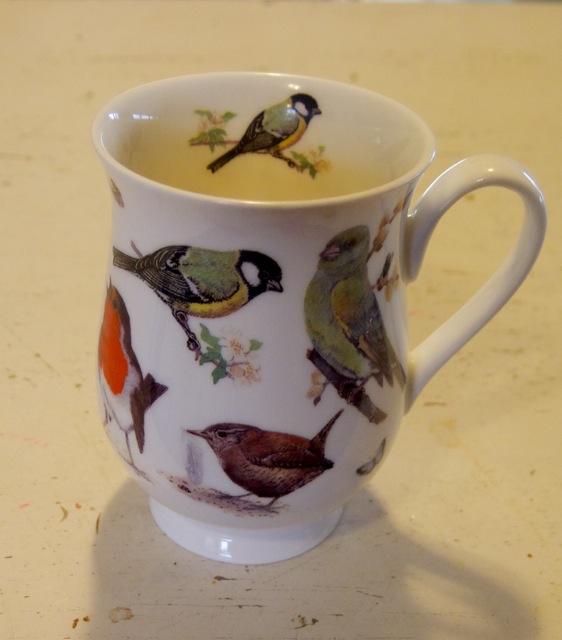 Bird mug. This one looks oddly largish in the picture but is more petite: the pedestal and the nipped-in sides mean it holds significantly less than its pink/blue neighbors. I use this one when I am Having Some Coffee But Not as a Beverage Per Se. Like, for my pre-breakfast coffee, or for a little coffee to go along with a cookie later on. It bothers me a little bit that the bird on the inside of the mug is so similar to the bird visually closest to it on the outside of the mug. I wish it were a different bird entirely. But I have made peace with that. I love the curvy shape of the mug, and the handle, and the birdies. I am more drawn to this mug in spring/summer.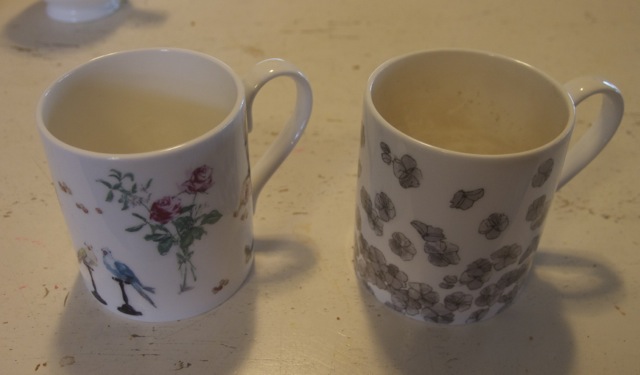 These two are also Small Mugs. I have this same mug in I think five different prints, because I like the size/shape/handle/heft so much. The one with the little grey blossoms is a winter favorite that will soon be replaced by the brighter/springier ones—but I do still reach for it on grim mornings. The other is one I stood considering in the store, thinking, "What is the MEANING of this design? Birds on bird-stands? Roses bigger than the birds? Butterflies? Grapes? Why?"—but I'm so glad I bought it because it stays fun to look at.
This is a topic, by the way, where I would be VERY INTERESTED in seeing YOUR favorite mugs, so if you do (or have done) a post on it, I hope you'll leave a link in the comments. Or I'd enjoy just HEARING about your favorite mug(s).