I had such a good salad for dinner tonight. Several of you mentioned a cheeseburger salad on the salad toppings post, and I hadn't yet gotten around to clicking the link before Paul said he was going to grill burgers. I asked for mine without a bun, and asked for ten minutes' warning to assemble the rest of the salad. I put the rest of the big bag of mixed spring greens into the bowl, and filled in the gaps with iceberg lettuce (I hadn't realized the bag of spring greens was so low). I added a handful of grape tomatoes cut into quarters or sixths (some of them are biiiiig grapes). Then some shredded cheddar. Then, today I'd bought some bacon bits, so I added those too: BACON cheeseburger salad! Then the burger was done, and Paul cut it into a lot of little pieces (he asked how small I wanted it cut, and I said I wanted, like, 40 pieces). I put that on top of everything else.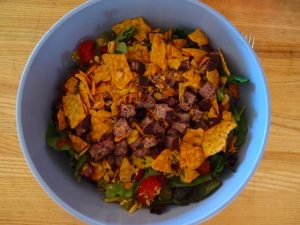 I wondered what to do about dressing, and decided on mustard and ketchup, even though Paul acted grossed out by that. I didn't use very much of either one, and I mixed everything together, so there was no visible ketchup/mustard anywhere—just a suggestion of the taste. (It made me remember a vegetarian co-worker of mine who said he would sometimes eat a toasted hot dog bun with ketchup and mustard and relish on it, because that was what he was REALLY craving when he felt like he was craving a hot dog.) I think if I'd thought about it more beforehand, I might have whisked together mayonnaise, ketchup, and mustard to make a dressing. [Note: I did this on future salads and it was exactly delish.] Ooo, and maybe some dill pickle relish!
It was very, very good, and took a lot longer to eat than a cheeseburger. I didn't really notice the bacon, so I'd probably skip that next time (though maybe when I take it out I'll notice the salad isn't as good). I'd add more cheese instead: I'm not sure how much I put in, but it wasn't enough.
If I'd thought of it in time, I might have broiled a hamburger bun to make croutons. Instead, I put on a handful of crushed Doritos, and that was SO GOOD.
I'm finding that one downside of eating salad is that everyone, everyone, everyone associates it with weight-loss attempts. So when I put cheese and Doritos on my salad, I feel as if Paul is giving me the side-eye (even though he says nothing, does nothing with his eyes, and this could be all in my imagination)—as if I'm trying to self-righteously pretend I'm Eating Light when actually I'm eating many calories of cheese and bacon and chip. It feels hard to explain that what I'm actually doing is turning a cheeseburger with a side of Doritos into a big heaping helping of greens and tomatoes, plus the burger and Doritos, plus the joy of eating MORE.
[Follow-up: The next week, I added a cut-up dill pickle. SO GOOD.]